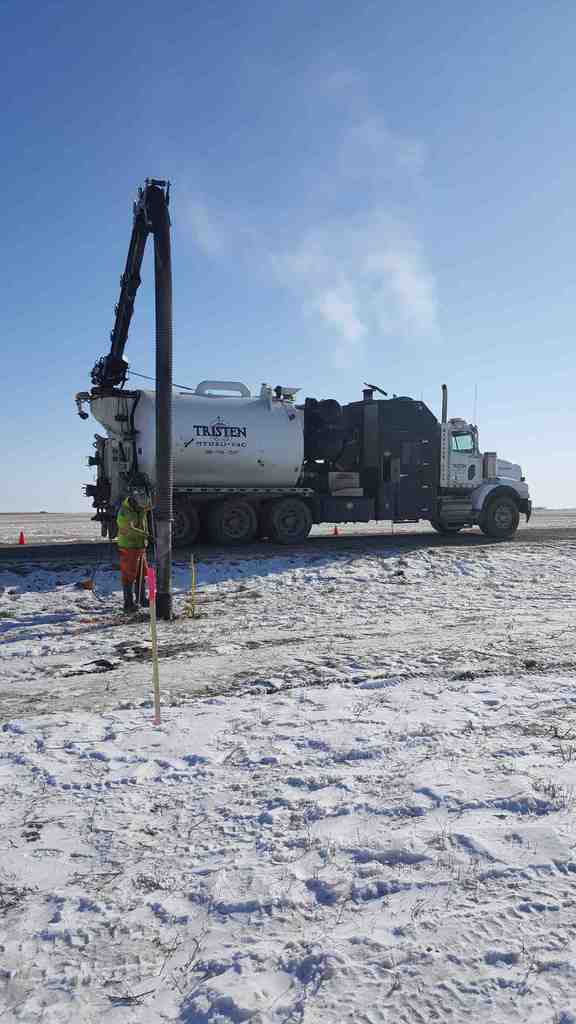 Hydro-vac Trucks
We have made a significant investment in our fleet of Hydro-vac trucks and we know how to use them. Our crews are comprehensively trained, fully bonded, and insured.
Hydro-vac trucks utilize high-pressure water and vacuum equipment. Think of it as a mobile hose and shop vac on steroids. The trucks dig, drill, and clean the selected job site. The water jets loosen up the targeted soil for excavation. Then a vacuum hose extracts the water and loose materials into a large holding tank. These trucks complete various excavation projects in an environment-friendly, non-destructive, yet quick manner. They also perform very well in colder climates because they can use warm water to deal with frozen soil.
Hydro-vac Applications Include:
Backfill Restoration
This is the reverse procedure to excavation. Filling the hole back in safely and securely.
Daylighting
Daylighting refers to uncovering and exposing underground utilities, cables, and pipelines to daylight.
Debris Removal
We remove any wet or dry material from trenches and pits.
Hole Excavation
This is used for digging vertical holes for fence posts, utility poles, signs, and pilings, etc.
Natural Disasters
Hydro-vac trucks can be used for cleanup tasks after natural disasters like floods.
Tank Cleanup
We safely remove materials from above ground and underground tanks.
Trenching
Often described as long, narrow excavations in the ground, trenches are usually deeper than their width.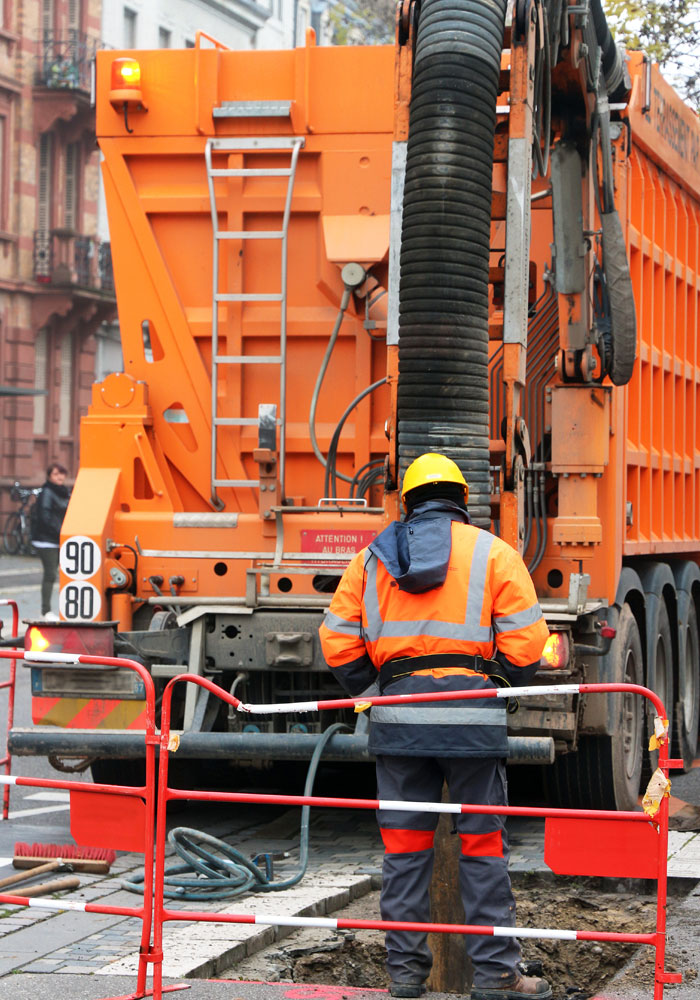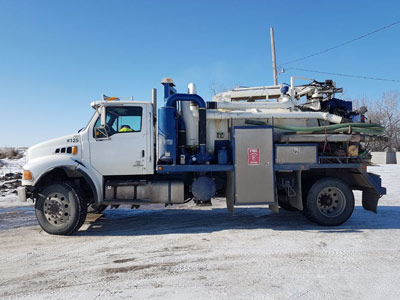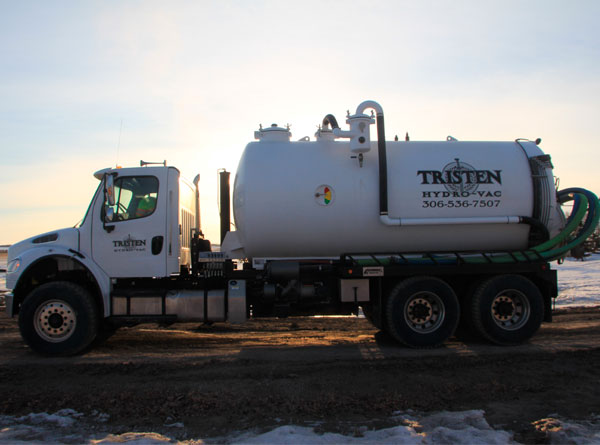 Steam Trucks
When you are looking for a HOT truck
These units direct the flow of extremely hot water and steam. They can be used to clean conduit, culverts, sewer lines, and open frozen catch basins. They are also used for wellheads and water wells.
Water Trucks
Whether you need clean, non-potable water delivered to you or nasty water taken away, we can do that. We are fully equipped to haul clean water to your worksite, farm, cabin, or home. 
Septic and Sewer Services
We provide full sewer and septic services to businesses and residents all throughout southern Saskatchewan. We do septic and sewer tank cleaning, holding tank cleanouts, wastewater and contaminated soil removal. For commercial customers and car washes, we perform sump pit cleaning and waterjet cleaning.
Porta Potty Rentals
We offer porta potty and portable washroom trailer rentals. The trailers are available heated or non-heated. This equipment is delivered right to your site and professionally maintained. If you gotta go, go with us. After you go, don't forget to wash your hands at one of our portable hand wash stations.
The Porta Potty rentals start from $50.00/month for non-heated single units. We also have single heated units available. Need more? His and Hers Washroom Trailers are available starting with double units up to trailers that can accommodate 10 people at once. 
Sewer and Water Line Repairs and Replacements
Tristen Hydro-vac Services does commercial and residential sewer and water main replacements and repairs. If you have an older home or business this might be of concern to you. Homes and businesses built before 1960 might have lead water service connections. If you do have lead water service connections, they should be replaced. Calls us at 306-536-7507 for a quote. We would be happy to help you get the lead out.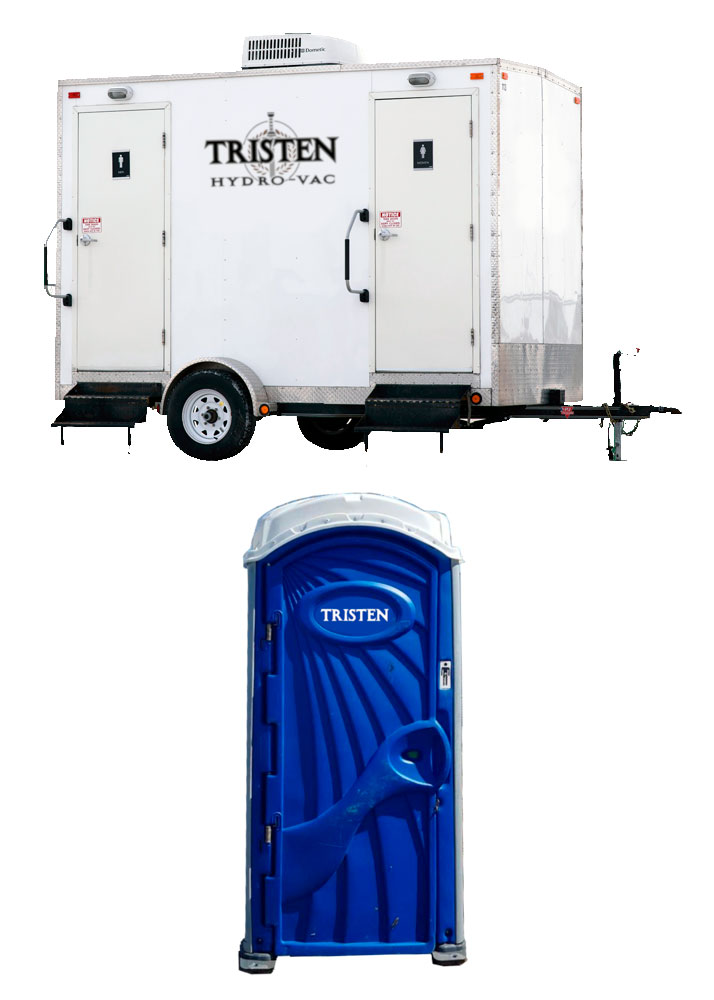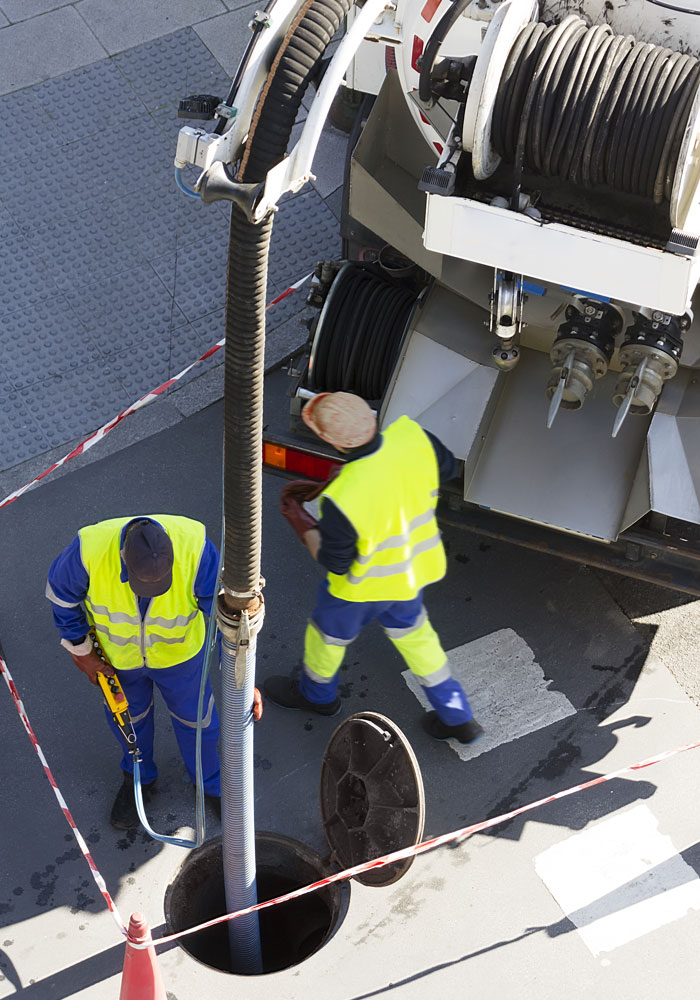 Disaster Restoration Services
Start to finish, we'll get you back to square
We have the equipment, personnel, and expertise to remove the damage. Especially water and sewer. Commercial, industrial, and residential claims handled. Tristen Hydro-vac Services is bonded, insured, and has all required safety certifications.
We will:
Pump it out
Clean it out
Sanitize it
De-humidify it
Fix the pipes
Replace the sewer lines
Drywall and carpentry repairs
Electrical, flooring and furnace repairs
Hand Washing Station Rentals
We make hygiene compliance mobile.
We can quickly and economically equip your business with clean, functional hand washing stations. No plumbing, no electricity, and very little floor space is required.
The obvious benefit is that handwashing keeps people healthy. It also greatly reduces the spread of viruses and bacteria to your doors, shelves, merchandise, handrails and more.
Handwashing stations also shows your staff and customers that you care. A hand washing station at your entrance will create a great first impression while letting everyone know that your business takes hygiene seriously.
Call us today and ask about our low rental rates.